World
Wagner's leader is not in our country, but in Russia
The Belarusian President, Alexander Lukashenko, confirmed that the leader of the Wagner Group, Yevgeny Prigozhin, is not yet in his country, but rather in the Russian city of St. Petersburg.
He added in remarks today, Thursday, that Wagner fighters are in their permanent camps, according to Reuters.
Prigozhin, who was supposed to have gone to Belarus as part of a deal concluded after the failed rebellion, had gone in a recorded audio speech Monday evening, from 41 seconds he posted on Telegram, in which he thanked his supporters for his support, according to the "Politico" website.
He also stressed that his movement was not intended to change the government in Russia, claiming that it was for the purpose of what he called "fighting traitors."
The first enemy
And Prigozhin, 62, turned from a folk hero to enemy number one in Russia after he led an armed rebellion that lasted 36 hours last month, in which he seized the city of Rostov in the south of the country, and sent his men to a distance of 200 kilometers from the capital, Moscow.
The man then disappeared after President Vladimir Putin condemned his rebellion, calling it a "stab in the back".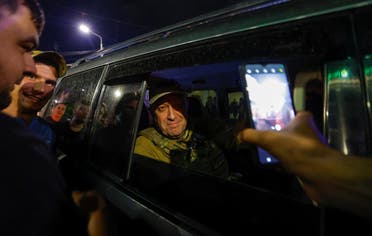 During Prigozhin's exit from Rostov (Reuters)
After that, he won a judicial reprieve in a deal brokered by Belarusian President Alexander Lukashenko, according to which he received him in his country with his elements.