World
The families of the victims of the Beirut port explosion are calling for the independence of the judiciary
In a statement today, Saturday, the Association of Families of the Victims of the Beirut Port Explosion demanded the resignation of the judges, whom it accused of having "mortgaged themselves to serve the political authority."
The families of the victims organized their monthly vigil in the capital, Beirut, and demanded the independence of the judiciary, in addition to the "restraint" of politicians, nearly two and a half years after the accident that claimed the lives of more than 200 people, according to Lebanese media.
The statement added, "Once again, the Beirut port case exposes political and foreign interference in the judiciary, which threatens the entity of justice and defames the dignity of every impartial judge."
Last week, the Public Prosecutor, Ghassan Oweidat, decided to release all those arrested in the Beirut Port explosion case, amid a judicial crisis, after the judicial investigator in the case announced the resumption of his investigations, 13 months after it was suspended.
judicial war
The decisions of the prosecution against Judge Tariq Bitar come amid a judicial war that erupted between the two parties following the latter's decision to resume investigations into the explosion 13 months after they were suspended, despite the discriminatory Public Prosecution's rejection of his decisions.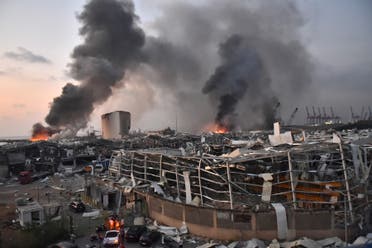 From the port of Beirut on August 4, 2020 (France Press)
The judicial investigator, Tariq Al-Bitar, had resumed his investigations into the port explosion case after it was suspended since the end of 2021, and decided to summon 8 prominent officials, but Oweidat rejected Al-Bitar's decisions "wholesale and in detail."