World
Hungary is obstructing it.. A European support package for Ukraine worth 18 billion euros
The European Parliament on Thursday approved an EU financial support package of 18 billion euros ($18.7 billion) for Ukraine, a plan Hungary continues to block.
Hungary announced on Wednesday that it would send financial aid to Ukraine worth 187 million euros, an amount equivalent to only 1 percent of that sought by the European Union to raise.
In addition, the chief budget official in the European Union accused Hungary of obstructing the bloc's financial plan in an effort to blackmail Brussels to push it to release billions in the funding allocated by the European Union to Budapest. These funds were frozen due to concerns about corruption and the independence of the judiciary in this country.
Face the pressures of Budapest
The EU has so far refrained from disbursing 5.8 billion euros as part of the Covid-19 recovery funds for the right-wing Hungarian government and is threatening to freeze an additional 7.5 billion euros.
In a resolution adopted Thursday, MEPs urged the Commission to confront Budapest's pressure firmly.
Kyiv is seeking billions in emergency funding for next year as it grapples with the economic repercussions of Russia's military operation in its territory.
But Hungary, which is the closest to Moscow among the 27 European Union countries, confirms that it opposes the bloc's debt jointly to finance the aid package. Instead, it plans to provide support to Ukraine on a bilateral level.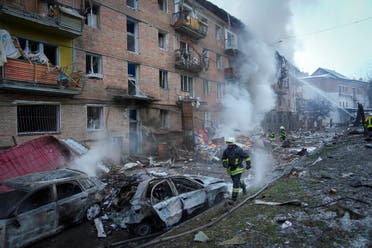 A suburb of Kyiv after being bombed by Russia (AP)
Financial aid
The EU has already sent more than 6.5 billion euros to Ukraine in total financial aid this year.
But the International Monetary Fund estimates Kyiv will need 3-4 billion euros a month next year as it struggles to maintain state services and counter an invasion by Russia, which has occupied nearly a fifth of its neighbor's territory.
Brussels hopes that Washington and other international donors will make similar contributions to bring support to the required level.