World
Terrifying numbers of cases of torture in Kherson at the hands of the Russians
Torture cases in the city of Kherson, located in southern Ukraine, reached "terrifying" numbers during the control of the Russian forces, according to a senior Ukrainian official in the field of human rights, Thursday.
"I have not yet seen torture of this magnitude after I visited all the torture chambers in different regions of Ukraine," said Dmytro Lubinets, in charge of Ukrainian human rights, to national television, adding that "the scale of the phenomenon is terrifying."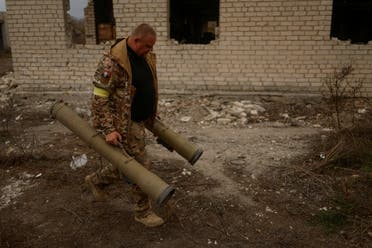 Ukrainian soldier in Kherson (archive from Reuters)
He explained that dozens of people were "electrocuted and beaten with metal tubes, and their bones were broken," noting that "the Russians filmed all of that."
He continued, "I am sure that we will discover in every important town a torture chamber, because it is a method established by Russia."
And the Ukrainian authorities announced the discovery of several torture chambers in towns belonging to the Kherson region, which were recently recovered from the Russians after months.
A resident of the city of Kherson recounted that he was detained for several weeks in this city during its occupation. He said he was tied up, beaten, and electrocuted by Russian and other pro-Russian officials during his arrest.