World
The withdrawal of the Russians from Kherson, a new victory for Kiev
In conjunction with Moscow's announcement that its forces have begun to withdraw from Kherson, NATO Secretary General Jens Stoltenberg confirmed that he is watching how this withdrawal will take place.
He considered that this withdrawal, if confirmed, would constitute "a new victory for Ukraine."
under great pressure
He also added, after talks with Italian Prime Minister Giorgia Meloni in Rome, today, Thursday, "We must monitor the development of the situation on the ground in the coming days."
However, he saw that Russia is under great pressure, as is evident from its decisions in southern Ukraine, according to what AFP reported.
These statements came after the Ukrainian army announced earlier today that its forces had recaptured 12 towns in the Kherson region, without being sure whether the Russian forces had completely withdrawn from the city.
It is noteworthy that Moscow's loss of Kherson, which is the first major Ukrainian city to fall into its hands since the outbreak of the conflict on February 24, will constitute a strong blow to it and the prestige of its army.
Especially since the city is one of the four regions that the Kremlin announced in late September (2022) its annexation.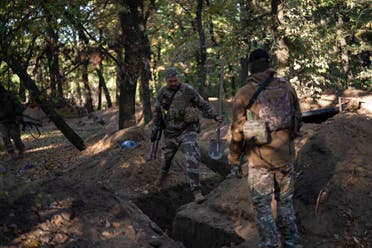 Ukrainian forces near Kherson (Archive – Associated Press)
special location
Its geographical location also bears special importance, as the region is located on the borders of the Dnepropetrovsk and Nikolaev regions, and it has a land border with Crimea in the south, while overlooking the Black Sea in the southwest, and in the southeast by the Sea of ​​Azov.
It is noteworthy that the Russian-Ukrainian conflict has entered its ninth month, amid a continuation of the Ukrainian counter-offensive launched last month in the south and east, in order to drive the Russians out of the towns they had taken over.