World
A ship sank off Lesbos, Greece, killing at least 15 migrants
At least 15 people died when their ship sank off the Greek island of Lesbos in the central Aegean early on Thursday, the Greek coast guard said, in the second sea disaster involving migrants since Wednesday.
The coast guard, citing five people rescued so far, said the sinking boat was carrying about 40 people. He added that 15 bodies were found, and this leaves about 20 people missing. The boat sank east of the island of Lesbos, close to the Turkish coast.
A Greek coast guard ship and an air force helicopter rushed to conduct search and rescue operations as strong winds blew in the area.
A search has been conducted along the wider coast of Lesbos, looking for migrants who may have reached the shores. Three people were found stranded in a remote area.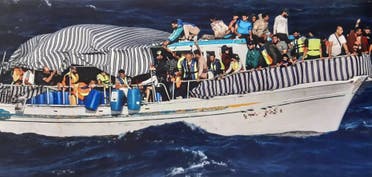 archival
In an earlier incident, Greek authorities rescued 30 migrants whose boat sank after it hit a rocky area in stormy waters near the island of Kythira in southern Greece on Wednesday.
The Greek coast guard said that the authorities had launched a search operation to rescue about 100 migrants whose ship sank after it hit a rocky area in stormy waters near the island of Kythira on Wednesday.
"Their ship hit a rocky area and sank," a coast guard official said. "A coast guard ship rushed to the area and was joined by a Greek navy helicopter," he added.
The Coast Guard had no additional information on the possible casualties or the nationality of the migrants. The island of Kythira is located off the southeastern tip of the Peloponnese Peninsula.
Greece was the front line in Europe's migration crisis in 2015 and 2016, when a million refugees fleeing war and poverty from Syria, Iraq and Afghanistan arrived mainly via Turkey.
The number of immigrants has since fallen sharply, but attempts to enter the country by sea through its islands continue.