World
Putin's annexation of our lands did not change anything for us
Ukraine's Foreign Minister Dmitro Kuleba said on Friday that Russian President Vladimir Putin's bid to annex the four Ukrainian regions of Donetsk, Lugansk, Zaporizhia and Kherson is an attempt to seize lands that he does not control on the ground.
Kuleba also added on Twitter that this operation did not change anything for Ukraine, and said, "We will continue to liberate our land and people, and restore our territorial integrity."
By attempting to annex Ukraine's Donetsk, Luhansk, Zaporizhzhia and Kherson, Putin tries to grab the territories he doesn't even physically control over the ground. Nothing changes for Ukraine: we continue liberating our land and our people, restoring our territorial integrity.

— Dmytro Kuleba (@DmytroKuleba) September 30, 2022
The Russian President had signed with the leaders of the Donetsk, Lugansk, Zaporizhia and Kherson regions of Ukraine agreements to join Russia, amid international rejection and widespread condemnation.
Reconstruction of Donbass
The Russian news agency Sputnik quoted Putin as saying in a speech after the signing ceremony that took place in the Kremlin this afternoon that the right of the residents of these four regions "to equality and self-determination is enshrined in the Charter of the United Nations," stressing that Russia will provide security for Donbass, Kherson and Zaporizhia regions and help them in the reconstruction. Infrastructure.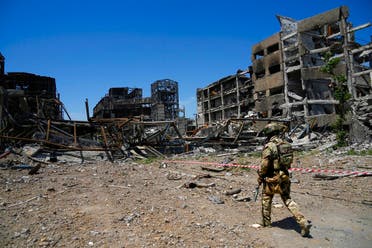 Russian forces in Kherson (AP)
"The Kyiv authorities today must treat this free will of the people with respect and nothing else," Putin said. "I want the Kyiv authorities and their true masters in the West to hear me; the residents of Donetsk, Lugansk, Kherson and Zaporizhia are Russian citizens of today."
Join NATO
In Kyiv, Ukrainian President Volodymyr Zelensky addressed a speech to the people, in which he said that his country would apply for urgent membership in the North Atlantic Treaty Organization (NATO).
Ukraine's news agency quoted Zelensky as saying, "Today, here in Kyiv, in the heart of our country, we are taking a decisive step for the security of our entire society… We are taking our decisive step by signing the request for acceleration of Ukraine's accession to NATO."
wave of international condemnation
Amidst a wave of international condemnation, America and Britain imposed sanctions on Russian officials and Russian entities, while countries such as Britain and the Netherlands announced that they had summoned the Russian ambassador to hand him a note of protest against the annexation decisions.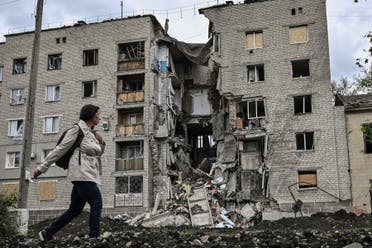 From Donbass (AFP)
The White House said President Joe Biden condemned Russia's decision to annex Ukrainian territory, saying it violated international law. In a statement, Biden called on the international community to reject Russia's "illegal attempts" to annex Ukrainian territory.