News
Kılıçdaroğlu and Akşener met at Yavaş's event, gave the message 'no problem'
Ayşe Sayin | Ankara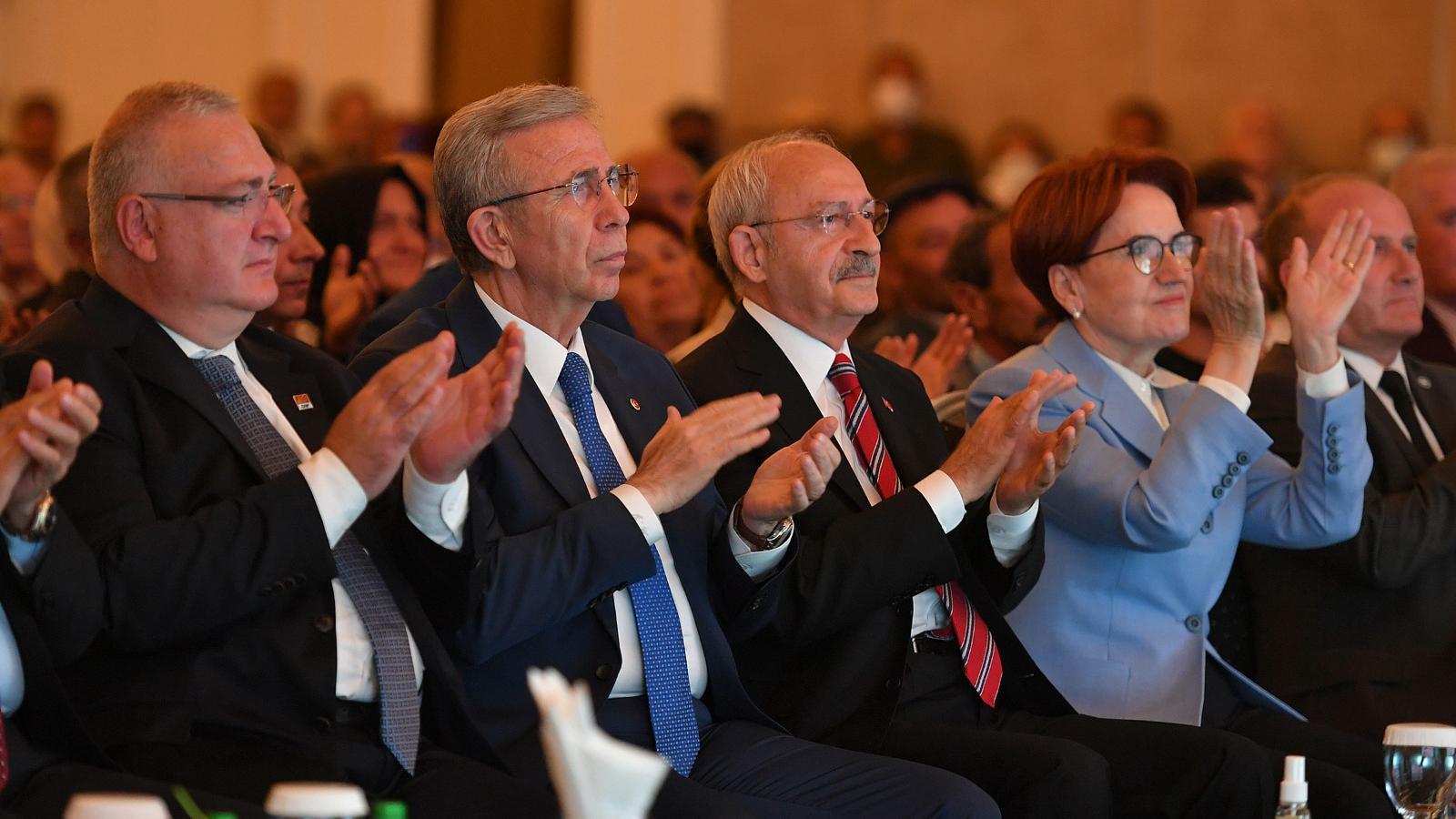 CHP Chairman Kemal Kılıçdaroğlu and IYI Party Chairman Meral Akşener came together for the first time at the Capital Model in Rural Development Meeting, organized by Ankara Metropolitan Mayor Mansur Yavaş, after the discussion on "HDP can be given a ministry".
Akşener and Kılıçdaroğlu, who chatted during the event and were observed to be quite cheerful, then posed for the cameras with the farmers.
The CHP leader stated that when they come to power as an alliance, they will show the world many things that have not been seen before. He said, "There is no discrimination in our book."
Ankara Metropolitan Mayor Mansur Yavaş announced the Capital in Rural Development Model, which is among his election promises, to the public at an event attended by CHP and IYI Party leaders, executives, deputies and farmers at the Bilkent Hotel.
What made the meeting interesting was that it coincided with a period when "cold winds were blowing" between the two parties.
CHP Istanbul Deputy Gürsel Tekin's words that "an HDP member can also be a minister" when they came to power created a lot of controversy on the political agenda, and the IYI Party members, especially Akşener, reacted harshly despite the CHP administration's statements that "there is no party view".
It was spoken in the backstage that there was a conflict between the two parties about "candidacy" for a while.
Because although Kılıçdaroğlu stated his candidacy intention by saying that he was ready for candidacy if he agreed on the table of 6, the lack of open support from the IYI Party and the statements supporting Mansur Yavaş's candidacy led to comments that there was tension between the two parties. .
A "NO PROBLEM" MESSAGE WITH HAPPY CHAT
Because of these developments, eyes were turned to the event of Ankara Metropolitan Municipality, where the two leaders would meet.
It was observed that Akşener and Kılıçdaroğlu had a very cheerful conversation before Mansur Yavaş took the podium at the event. Akşener kept the pace with applause from time to time during the seymen show, and at the end of the program, the farmers and the cameras gave the message "no problem" in a sense.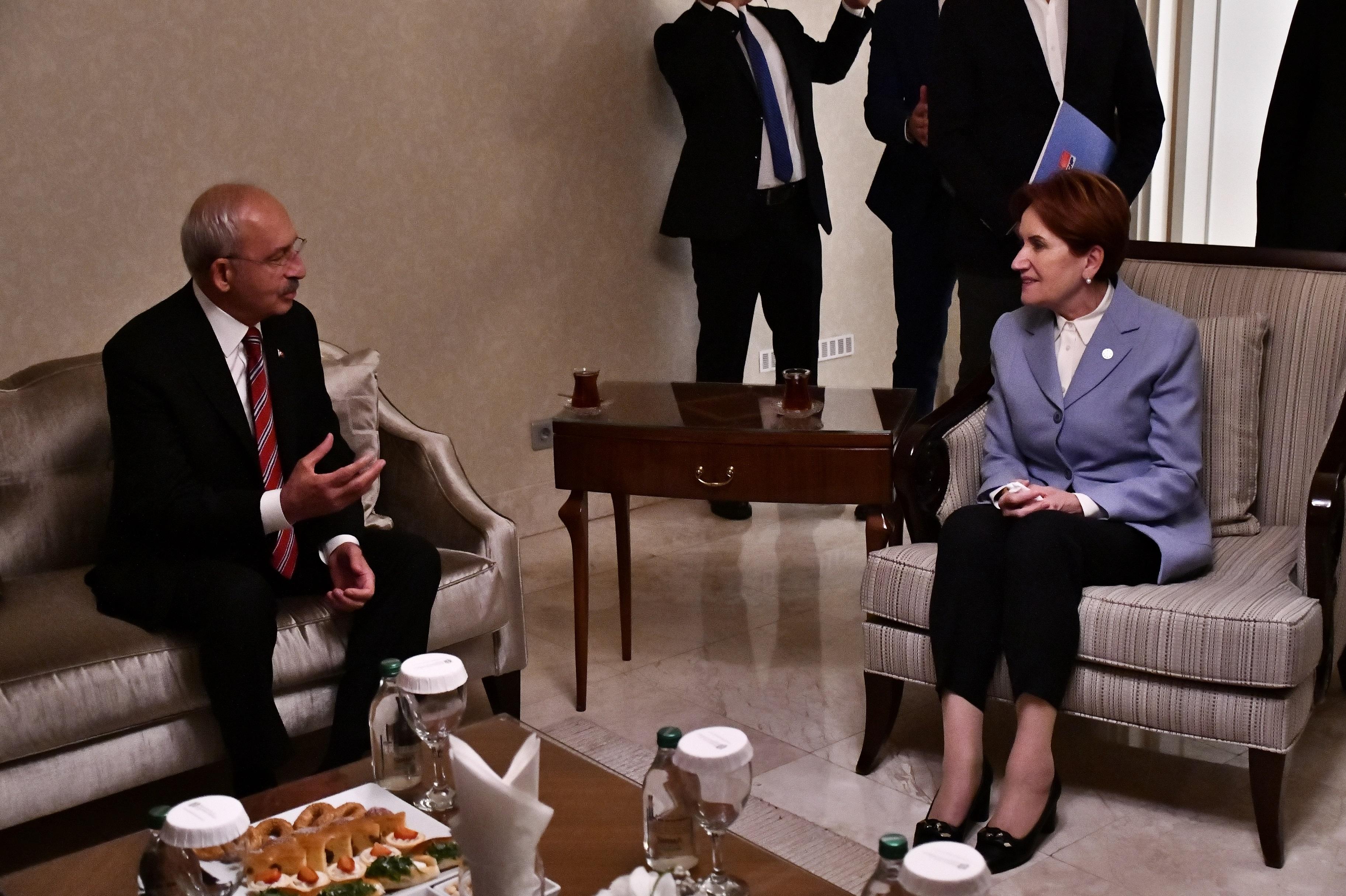 GOVERNMENT MESSAGE WITH ALLIANCE: 'WE DON'T DISCRIMINATE'
Speaking at the event, Kılıçdaroğlu stated that a farmer described the municipality's distribution of liquid fertilizer as an "unprecedented thing" and said, "God grants us, we will show the whole of Turkey and the world when we come to power as an alliance. We will make every effort to enlarge Turkey, to develop Turkey, to save this country from the scourge of unemployment," he said.
Stating that mayors do their best to serve, Kılıçdaroğlu said, "I am saying this to my mayor friends; 'You will not complain, your duty is to overcome problems and serve the public'. They do it. They continue to do so," he said.
The CHP leader, who defended that the farmer was "offended" by the land due to the policies of the government, said that when they came to power, they would "not discriminate and make the peasants the master of the nation again":
"There's another good thing the President has done. A farmer friend of mine said; 'Everyone is served indiscriminately'. Yes, there will be no discrimination among citizens. There is no discrimination in our book.
"As soon as she votes, it's her choice. But the political institution has to serve that person, it has to solve its problem. Together, they must embrace. After solving the existing problem, he has to embrace and listen to it.
"We all need a new climate, understanding, understanding of living together, a new love."
SLOW: THE MOST COMPREHENSIVE RURAL SUPPORT
Mansur Yavaş, who came to the podium to explain his project, stated that 50 percent of the empty areas in Ankara are suitable for agriculture and said, "In such an environment, we implemented the Integrated Rural Development Model. At the point we have reached today, we are very happy to provide Turkey's most comprehensive rural support on a local basis."
Stating that the ornamental plants used in parks and gardens in Ankara were purchased from farmers from Ankara who made "contractual production", Yavaş said that they ended the period of "imported trees and plants" in Başkent. Slow explained their 2023 goals as follows:
"We have also set our targets for 2023 and have already started preparations. With the newly established rural development budgetary enterprise in our Metropolitan Municipality, product processing and storage facilities will be established in our districts in order to accelerate the access of our producers' products to the market and to make them earn more money.
"For example, we will provide facilities such as cold storage in Çubuk and Ayaş districts, geothermal drying facilities in Beypazarı and Kızılcahamam districts, and grape-squeezing machines in the villages in Kalecik."
THEY LEFT TOGETHER
Kılıçdaroğlu and Akşener left the meeting room together. Kılıçdaroğlu, pointing to Akşener, said, "We know that there are problems. In Elazig, Erzurum and Izmir, we will solve them all. A little patience, he says, it's almost time, Mr. President," he replied.