News
4 wind power plants from SANKO Energy
Speaking at the collective opening ceremony held at the Güney-1 Wind Power Plant built in Bursa, SANKO Holding Honorary President Abdulkadir Konukoğlu said that the Sanibey Dam and Hydroelectric Power Plant, which everyone says 'it will only end in 15-30 years', was completed in 1,250 days.
Touching on the four WPP projects that have been commissioned, Konukoğlu said, "This is not our last project. We have new projects yet to come. These will also be realized in time."

Zeki Konukoğlu, Honorary President of SANKO Holding, who made an emotional speech at the ceremony and started his speech by thanking all his colleagues who contributed to the energy projects carried out so far, said:
"The adventure in energy, which started in 2005, brought us this far. Together, we have exceeded our 1,000 MW target by working tirelessly and tirelessly. This year, we will have reached 1,045 MW by adding 55 MW GES projects to our portfolio and also thanks to the solar energy projects we will do at Sanko facilities, and our production will increase. will exceed 3 billion kWh. I would like to thank each and every one of our friends who contributed to this path."
"WE WILL SUPPORT OUR COUNTRY'S RENEWABLE ENERGY SECTOR"
In his speech, SANKO Holding Chairman of the Board Adil Sani Konukoğlu pointed out that as SANKO Group, they always prioritize the people, society and the country and they work for this, and one step further towards their dreams with the opening of four separate wind power plants that SANKO Energy Group has recently commissioned. He stressed that they were approaching.
Underlining that they have made all the investments they have made for 118 years with the love of people, society and country first, Konukoğlu said, "The main reason for us to enter energy was to use our country's energy resources in the best way and to be more beneficial to our country. We reached the target of 1,000 MW that we set 15 years ago. We are proud of this and we are proud of this and that our young people will continue to do so." We believe that they will take it forward," he said.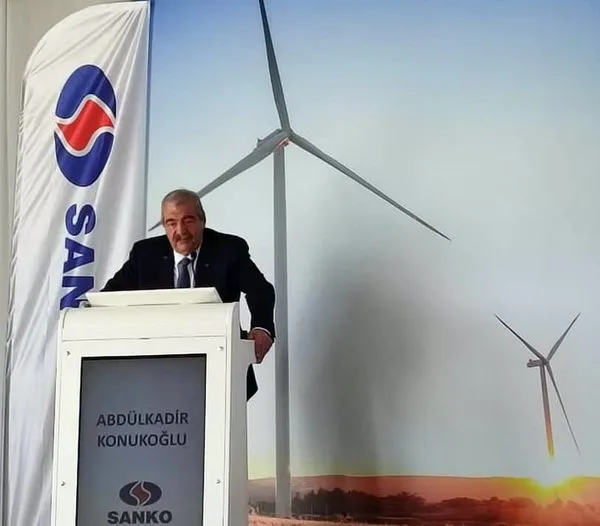 EVERY NEW POWER PLANT IS A FRONT OPENED ON ENERGY INDEPENDENCE
SANKO Energy Group Chairman Adil Tekin reminded that Turkey has been dealing with serious problems both in the field of finance and politics for the last five or six years and said, "We had a really hard time making these investment decisions in 2019, but we completed these power plants within the period of YEKDEM with great effort. It is a great source of happiness and pride for us," he said.
Hakan Yıldırım, CEO of SANKO Energy Group, said, "This success has been achieved thanks to all our friends who are here and who are not here today," and continued his words as follows:
"Turkey has become a construction site especially in the field of renewable energy in the last 15 years. It is a front opened in the energy independence of every renewable power plant established at a time when many countries see how big a risk it is to be dependent on foreign energy."
WIND PORTFOLIO EXCEEDS 300 MW
The wind installed power of SANKO Energy Group, which operates a total of six wind power plants together with Güney-1, Akyel-1, Akyel-2 and Gazi-9 WPP, has exceeded 300 MW. These four new power plants will illuminate 248,000 households and prevent carbon emissions of more than 358 thousand tons per year.
The Group, which produces in these fields with its six hydroelectric and three geothermal power plants besides wind and has a balanced portfolio, plans to add solar energy to its portfolio through hybrid power plants.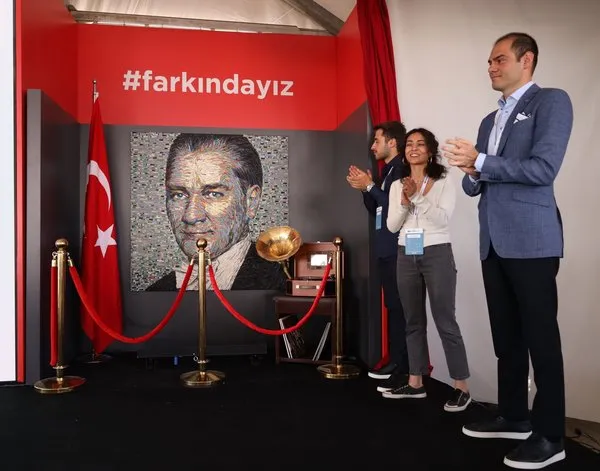 'PORTRAIT OF ATATÜRK FROM ARTIST DENİZ SAĞDIÇ TO GÜNEY-1 RES
At the ceremony, the Atatürk Portrait, designed by the painting and sculpture artist Deniz Sağdıç, using different materials for Güney-1 WPP for the 19 May Commemoration of Atatürk, Youth and Sports Day, was also inaugurated. The opening of the special portrait, which was made using different materials, was made after the 19 May themed speech of Turgut Konukoğlu, the youngest manager of SANKO Holding.
The opening of the portrait was made with the participation of SANKO Holding Board Member Turgut Konukoğlu and the scholarship students of the Sani Konukoğlu Foundation who attended the ceremony.
FIRST EVENT WITH EMPLOYEES AFTER THE PANDEMIC PERIOD
SANKO Energy Group, which produces 100% green energy with its 1,000 MW installed power, all based on renewable energy sources, was the first event held with the participation of company employees from across the country after the Covid-19 period.
"WE ARE AWARE" THEMED FIRST MEETING
SANKO Energy Group employees, who could not come together physically for more than two years due to the Covid-19 pandemic, also had the opportunity to be together again with the opening ceremony and the entertainment program held afterwards.
Company employees participated in the organization organized with the theme of "We Are Aware", which refers to being aware of vital issues such as health, socialization, being together, integrating with nature and producing energy from nature on the occasion of the pandemic.