News
AOSB brings new ideas to Turkish industry
The award ceremony, hosted by AOSB President Bekir Sütcü, Deputy Chairman Ömer Kaya, Board Members Yusuf Kara and Mehmet Tosmur, Supervisory Board Members Mustafa Fidan and Ergin Turan, and Regional Manager Ersin Akpınar, took place at the AOSB Seyhan Hall with wide participation.
AOSB President Bekir Sütcü emphasized the importance of the competition, which was organized to bring high value-added projects that will benefit the Turkish industry to the country's economy. Saying "It's time to give opportunities to young minds", Sütcü stated that the importance of industrialization in the development criteria of countries is indisputable in an increasingly globalized world, adding, "The increase in the level of industrialization, which is an important economic criterion, depends on the fact that the knowledge power of universities can find application in industry. Here we are. As Adana OIZ, we are mobilizing all our means to use this power."
After the opening speech, AOSB Regional Manager Ersin Akpınar and Project Support Office Coordinator and ATU Technology Transfer Office (TTO) Manager Assoc. Dr. Tuğçe Demirdelen presented the projects that ranked in the competition. Akpınar noted that they held the first of the competition in 3 categories last year, and that they determined 10 thematic areas in 3 categories in this year's competition.
Akpınar said, "More than 200 projects applied to our competition. We received applications from all of our universities. In addition to 78 academicians, 95 industrialists took part in the evaluation jury. The evaluation was carried out by the blind referee method. That is, the jury members did not know who or which university the project they examined belonged to. When he said "he did", Assoc. Dr. Tuğçe Demirdelen said, "This year's competition focused on green technologies and the energy sector. A total of 250,000 TL was awarded."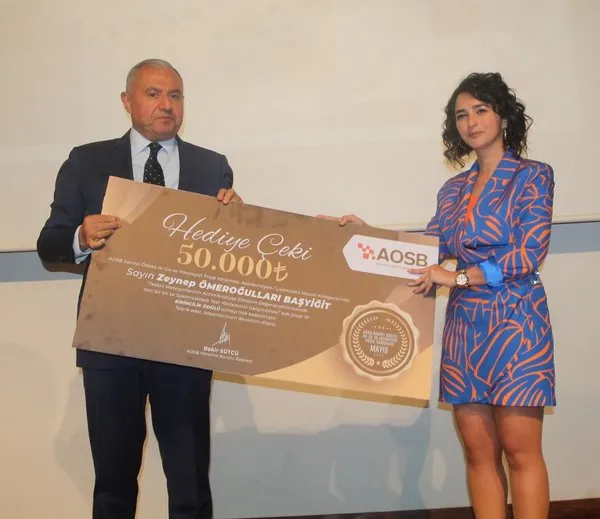 The winners, on the other hand, took the floor one by one and gave information about the contents of their projects, and thanked the AOSB management, who organized this national competition. At the end of the ceremony, the awards were given to the winners by the protocol members.