News
Breaking news from the Greek border: They are flocking by buses and minibuses…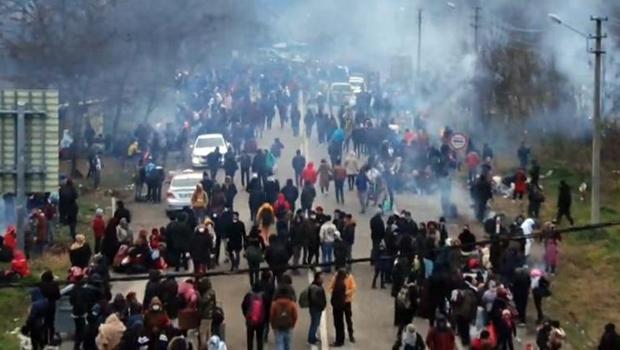 class="medianet-inline-adv">
Hundreds of immigrants who came to the Pazarkule border gate to cross into Greece continue to wait. Immigrants flocked to Edirne by buses and minibuses since yesterday morning. The number of people waiting at the Pazarkule border gate is increasing every minute. The refugee group, whose numbers have increased at least twice compared to yesterday, spent the night outside despite the cold weather. The crowd waiting in front of the border gate was also seen from the air this morning.
BORDER GATES OPENED AKIN AKIN TO EUROPE
After the treacherous attack in Idlib, the immigrants, who heard the decision of Turkey not to stop the refugees who want to go to the EU, hit the road since midnight.
Immigrants, including Syrians, Iranians, Iraqis, Moroccans and Pakistanis, came to Edirne to go to Greece, putting their bags on their backs and leaving Istanbul by taxis and buses. Immigrants from İzmir, Aydın and Çanakkale also flocked to the sea. Migrants, who got on boats from the beaches of Dikili in İzmir and Ayvacık in Çanakkale, landed on the Greek islands one by one.
class="medianet-inline-adv">
Yesterday morning, 15 immigrants, among whom set foot in Lesbos, on a small inflatable boat, were taken to Moria camp for registration. It was stated that 80 immigrants came to the islands of Middilli and Samos (Samos) until the evening hours.
'LET'S CROSS THE BORDER, GOD'S GREAT!'
They were perhaps the luckiest among those who embarked on a journey of hope since the first day of the civil war in Syria… They had neither the fear of being caught nor the thousands of dollars they had to pay to the smugglers… They were smiling and excited. They said, 'We took our bags and left. They didn't have a plan. Their only goal was to cross the border. They said, 'God bless afterward', they lined up on the shore of Maritsa…
Ahmet and his friends took a taxi from Zeytinburnu and came to Edirne in a convoy of 4 vehicles. They were stopped at the checkpoint at the city entrance. After a short check, they continued on their way. In the future, 4 taxis met again. When I approached them, they said, "Brother, we are in a hurry, we can't wait too long". Their faces were smiling. They were excited. "We just got our clothes," they said. They had no plans for where they were going. Their only goal was to cross the border. They were saying, "The next is Allah Karim". In Edirne, they lined up on the coast of Meriç by the shortest route.
class="medianet-inline-adv">
RAFT PASS 20 TL
Doyran village, on the edge of Meriç, is one of the points where the transition is intense. There's a raft here. It's 20 liras per person. There are Afghans as well as Syrians. Hamit, 24, came with his wife and two children. 'My brother is in Thessaloniki, waiting for us,' he says. His 3-year-old daughter Mercan is trying to understand what is going on around her.
GREEKS BEAT, bro
16-year-old Şahin is very experienced despite his young age. He has passed Meriç three times. He says, 'Greeks both beat us and take our phone and money and send it back'. That's why he's hesitant to pass. He is afraid that in the evening the Greek soldiers will catch him and send him back.
GUN SOUNDS VIZ COMING
"What their fate will be is still uncertain," I think, when gunshots are heard. Then the Greek border guards appear through the trees. But immigrants are not afraid. How frightening could a few gunshots have been for these people fleeing the gunfire and plane bombardments…